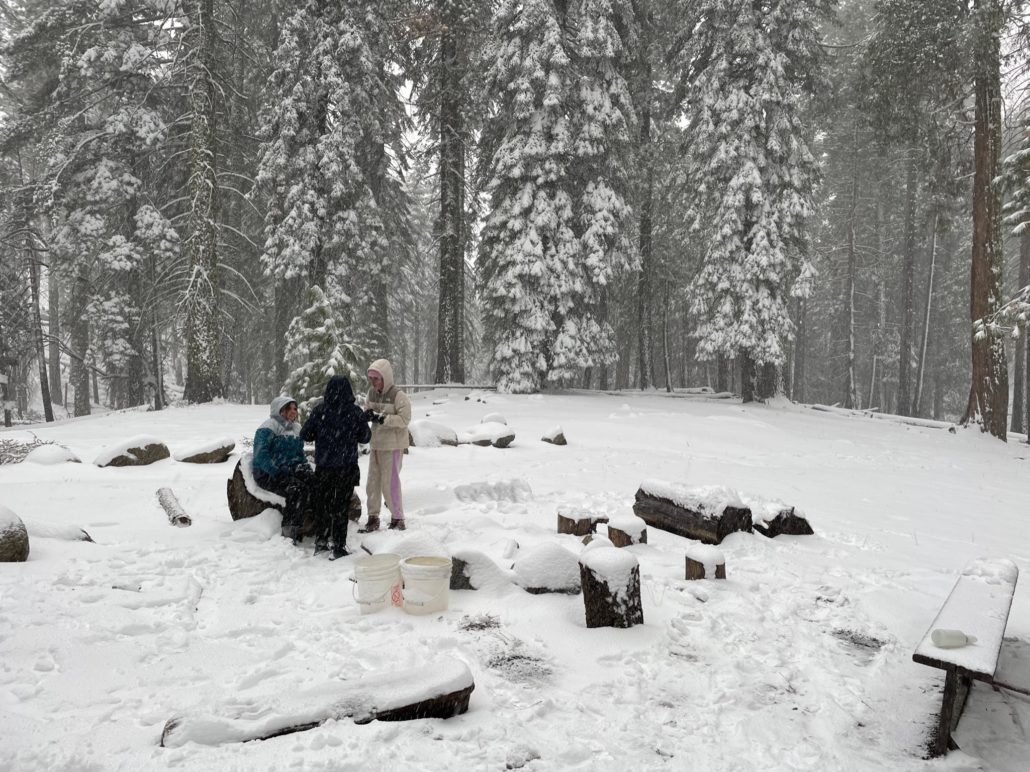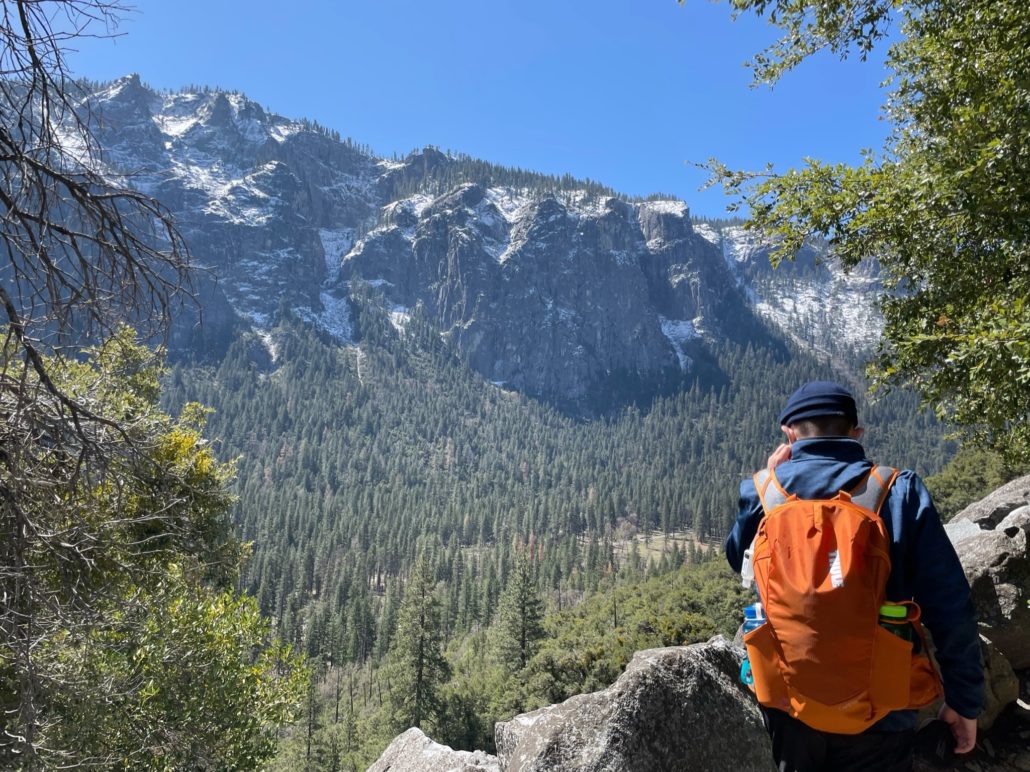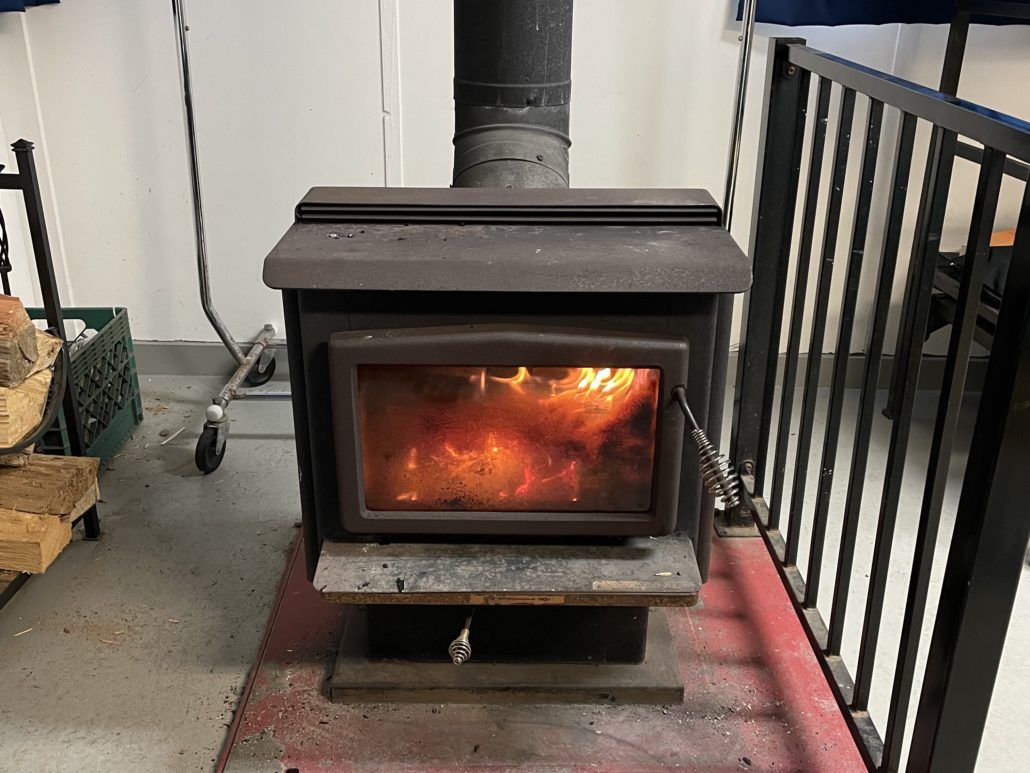 Yosemite, April 8-12, 2024
At One Spark Academy, we take our adventures seriously! We partner with NatureBridge to bring our students the most awesome, hands-on, and memorable experiences possible. (The pictures above are from our 2022 adventure to Yosemite.) Our adventures are unplugged from the indoor world so that we can plug into the natural, outdoor world. Like us, NatureBridge promotes the idea of nurturing kids'  independence and self-reliance, while examining the importance of our interdependence with one another and the world around us.
WHAT WE'LL DO:
We'll spend a week outdoors in one of the most beautiful classrooms on Earth! With the towering majesty of Half Dome, El Capitan, and Yosemite Falls looming above them, students will hike through the dramatic landscapes of Yosemite, explore ancient groves of giant sequoias, and challenge themselves to hike up to cascading waterfalls, as long as the trails are safe. With the incredible resources of NatureBridge, they will explore the geologic history of the Sierra Nevada; engage in field research projects, such as macroinvertebrate biomonitoring; and discover how the environment has supported humans, from the early Miwok to the present. NatureBridge works closely with the National Park Service and utilizes some of the data that students will collect and compile.
Four nights will be spent nestled in the Crane Flat Campground, which is near Tuolumne Meadows and the giant sequoias. At 6,200 ft. elevation, it is more likely than the valley floor to have snow, as we did in 2022! This is a small campus, and it is likely that our OSA group will have this location to ourselves! Students will sleep in wood-stove heated cabins, with their chaperones. They will enjoy delicious food, day programs with an experienced NatureBridge educator, and fun evening programs (such as an art class, a night hike, or a collaborative activity). During the day, we will be out in the field, walking and/or hiking anywhere from 5-8 miles over the course of the day, in all types of weather. Other adventures may include Spider Cave, the Merced River, Glacier Point, a spirit walk through the valley, climbing through a felled giant sequoia, and so much more. This is an adventure not to be missed!
COST/ DEADLINES:
Student cost is approximately $950*
This cost is based on 18 students attending, and includes transportation, comfy accommodations, all meals and snacks (including meals en route), all activities, and a contribution toward other related and significant costs (OSA teacher-chaperones, gas, and the rental of a large vehicle to reduce the number of drivers needed). *The final cost may be adjusted based on gas prices, cost of rental vehicle (or if not needed), or if more students attend and extra vehicles aren't needed. 
A deposit of $300 is required to hold a spot. We have currently reserved 18 student spots and will only add more with a deposit (and pending NatureBridge approval).
October 1: Deposits due since our deposit to NB is due by October 2 (after that, there is no guarantee of attendance)
January 2024: Parent information meeting, date TBD
February 1, 2024: Final payments due
March 1, 2024: All registration paperwork due
March 25, 2024: Begin modified quarantine. Students will still be in school and then have one week of Spring Break prior (including Easter), so please consider all of this and how best to stay healthy. See details below.
ITINERARY:
Monday, April 8: Meet at OSA early (6:30 AM) for a 7:00 AM departure, with our caravan driving to Yosemite. Arrival at Crane Flat by 3:00. We will stop for lunch* en route.
Monday-Friday: Sit down breakfast T-F, and then out in the field each day T-TH, 9:00-4:00 PM (lunch on the trail), followed by delicious sit-down dinners, and then an evening program each night. Midweek we'll take our "big" hiking days, although there will be hiking, exploration, and team-building daily! Other activities include studies, experiments, and activities learning about the geological landscape (rock cycle, tectonic plates), the history of Yosemite, and issues that impact our National Parks.
Friday, April 12: Breakfast, morning activities, lunch, and depart in chaperone vehicles. Stop for a meal* en route. Arrival back at OSA around 9:00 PM.
*Other stops will be taken snacks and using restrooms, and/or an additional meal if needed due to traffic.
PLEASE NOTE:
Cabin arrangements: We will have 2-4 large dorms with bunk-style sleeping, dependent on our numbers and needs. It is likely that all boys will be in one cabin with two male chaperone/s, and all girls will be in another with two female chaperones. Other adult chaperones will be in a separate cabin.
This is an unplugged trip. Students are expected to refrain from any texting or internet use for the

duration of the trip

. Chaperones or OSA staff may secure phones if brought, although some photography is permitted (we suggest a good old-fashioned camera). NatureBridge staff can be contacted at any time in case of emergency.
OSA staff will take PLENTY of pictures and share all of them with you.

Excellent

student behavior is expected (cooperation, safety, adherence to chaperone/educator directives).
Excellent parent communication is expected prior to (and during, if needed) the trip. There is much to plan and communicate in the months and weeks leading up to our departure. Parents need to support our chaperones and respect our decision-making. They also must recognize that conflicts, growth, and discomfort are all part of such a trip. The safety of all depends on our ability to focus on all.
HEALTH AND WELLNESS:
As this is an overnight trip, it is up to ALL participants to do their best to be healthy for themselves and others:
All participants (students, OSA chaperones) agree to adhere to any updated health requests by NatureBridge. NatureBridge follows all California Department of Public Health (CDPH) and local National Park Service requirements and recommendations for public health.
It is recommended that students be fully vaccinated against COVID, although it is no longer required due to high level of community exposure.
Here's NatureBridge's Health and Safety Plan (8/25/23).
Moderate quarantine is requested for all participants for ten days prior to camp arrival. We ask that attendees not travel out of their area, attend large gatherings, or have sleepovers unless health and wellness is assured. This is to ensure a high likelihood of excellent general health and wellness of our group.
CHAPERONES:
There is a limit to the number of chaperones we can bring, and priority goes to OSA staff and then OSA Board Members. Most of our chaperones on this trip have been NatureBridge chaperones multiple times and know the drill.
After 15 students, we will have two trail education groups (and two NB educators). Students will be assigned one of those groups to be with during each field day. At least one, but not more than two, chaperones will be with each group each day.
Students are supervised by chaperones or NB staff at all times.
If we need additional chaperones (parents), the priority goes to a father who would not be in the same cabin or trail group as his child. (NatureBridge doesn't allow parents to be in the same trail group or cabin as their child.) Parent chaperones must pay a chaperone cost of $675.
For further questions, email Lori Peters.